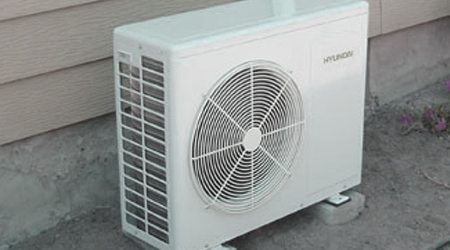 A Cooling Solution for Older Homes and Those without Ductwork
Older homes many times present challenges for heating and cooling. Retrofitting a central air unit can often be prohibitively expensive or structurally not a viable solution. Portable and window mounted air conditioners have limits and take up space, but a ductless air condition can be directly installed to a wall or ceiling and will operate seamlessly as a central air conditioning system.
Installation
A mini-split ductless air conditioner consists of a compressor/condenser that is installed externally, but instead of relying on a large cooling coil outside each room is outfitted with a small and quiet indoor fan and cooling unit. These units are typically installed high on a wall, or on a ceiling. A small hole is cut through the wall to run refrigerant lines, condensate drain, and power/control cables which are ran to and from the central exterior unit. Units can also be 'recessed' making them virtually unnoticable
Operation
A home setup with ductless AC in each room will stay cool throughout the hottest days of summer. Each room which has a ductless unit can be customized to a specific temperature. This is one of the great advantages over traditional centralized units: different rooms can be different temperatures all simultaneously. If your kids prefer cooler temperatures in their room, but your find yourself reaching for extra blankets at night, everyone can still sleep comfortably by setting thermostats on a room by room basis.
Ductless units include a remote control as well. The units may be high up on a ceiling or wall, but there will never be any reaching for one.
Heating AND cooling
Ductless systems are not just limited to cooling. Many models include or can be upgraded with a heat pump that will keep your home toasty during the winter. This can be a great money saving feature as well when combined with room by room thermostats. By keeping the center of your house the warmest and staggering the thermostats down closer to doors and windows, you can use less energy to achieve similar heating goals with less energy used.
Specifications
Surprisingly for the small size, ductless units can actually be more effective at air filtration than whole home ducted central units. This is because there is one central air filter for the entire system as opposed to hundreds of feet of duct work which needs to be properly sealed, cleaned, and insulated to operate at peak performance. The units come built for a variety of home sizes such as 3 and 4 bedroom models. Even with their compact size, these units pack a punch – most models are capable of exceeding 48,000 BTU in both heading and cooling
Airone Does Ductless Installation Right!
If you would like to learn more about the benefits of a ductless system, think one of these units may be right for your home, would like to request an estimate, or schedule a system inspection contact us today.
We look forward to hearing from you!
Contact Air One Heating and Cooling